Direct Thermal labels 57x32mm / 2100 / D127mm (Box of 12)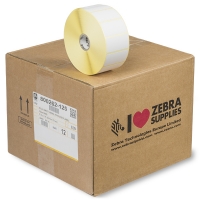 Direct Thermal labels 57x32mm / 2100 / D127mm (Box of 12)
Direct Thermal Labels 57x32mm / 2100 / D127mm (Box of 12) are high quality self-adhesive labels for printing barcodes and text using direct thermal label printers. They measure 57mm wide by 32mm high and have a 127mm diameter core for easy use with most label printers. Each box contains 12 rolls of labels, for a total of 2100 labels per box. These labels are ideal for applications such as product labelling, inventory, logistics, retail, etc.

Technical specifications:
Dimensions: 57mm x 32mm
Type of printing: Direct Thermal
Quantity per box: 2100 labels (12 rolls of 175 labels each)
Core diameter: 127mm
Material: High quality thermal paper
Adhesive: Permanent
Heat Resistance: Suitable for applications requiring heat resistance up to 50°C
Suitable for use with most Direct Thermal label printers on the market.