Paper labels 32x25mm / 2580 / D127mm (Box of 12)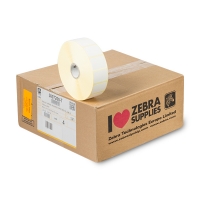 Paper labels 32x25mm / 2580 / D127mm (Box of 12)
Paper labels 32x25mm / 2580 / D127mm are adhesive paper labels for printing barcodes, product information and other data. These self-adhesive paper labels are a popular choice for printing barcodes and product information in a variety of industrial applications. With their superior print quality and durability, these labels are a convenient and reliable choice for companies that need a superior labelling solution.

Technical specifications :
Material: High quality adhesive paper
Colour: White
Size: 32mm x 25mm
Quantity: 2580 labels per roll, sold in boxes of 12 rolls
Core diameter: 127mm
Print Type: Direct thermal, no ink or toner required
Adhesive: Permanent
Compatibility: Suitable for a variety of direct thermal printers including Zebra, Datamax, Sato and others
Applications: Suitable for use in a wide variety of industries, such as logistics, retail, healthcare, warehousing and many others.
Print quality: Provides crisp, high quality printing for accurate reading of barcodes and other important information
Durability: Water, scratch and fade resistant for long label life.